Pest Control Company Kansas City | Best Pest Control Company Award Winner
Pest Control Companies in Kansas City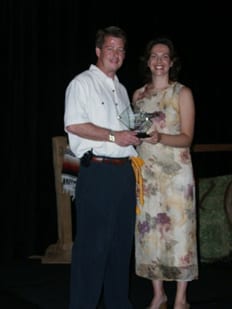 ZipZap is a Pest Control Companies in Kansas City that won the Best in class winner for customer service.
Small Company Winner:
ZipZap Termite & Pest Control
July 22, 2005 (note: this was an article written in 2005) update to company below
The Best-In-Class winner at the small company level is ZipZap Termite & Pest Control in Gladstone, Mo., a suburb of Kansas City. Jeff Preece and his wife, Janet, operate their pest control company, keeping the customer first in mind. "We've built our business over the past ten years, one referral at a time," explains Jeff. "We have only one Yellow Pages ad in a smaller book, but most of our other customers come from referrals."
With just six full-time employees, Preece continues to grow the business slowly and steadily. He has recently instituted a customer service initiative that brought surprising results. Every time customers refer business to ZipZap, their names are entered into a drawing. The company awards $50 to each month's winner, and in December, the drawing is for $1,000. "This has increased our referral business by 60 percent since we started this program this year," Preece explains. "It doesn't matter how wealthy the client is, and they still love the idea of having a chance to win a prize."
Preece says that the company does what it takes to please the customer, including a 90-day warranty on termite inspections. In one instance, a customer had an issue with termites after the 90-day warranty, but ZipZap honored the warranty and took care of the problem. "Sure, it might have cost me a few bucks," Preece says, "but that was the only inspection I have ever had to treat because of termites since 1995. This customer refers lots of business my way, so I will make more on the referrals from that customer than I lost in time and chemical doing the treatment."
ZipZap provides all its technicians with hands-on, one-on-one training. Preece periodically rides with each technician to evaluate the technician's customer service skills, study how they respond to the customer, answer questions, etc. "This business is not about killing bugs," according to Preece. "It's about treating people right."
Like A-Active, many of ZipZap's customers receive quarterly service, and most of that service involves exterior treatments only. So keeping in touch with customers is very important to the company. NPMA's Pest Gazette newsletter is an essential part of keeping in touch, as are letters and reminder cards.
Like the larger company Best-In-Class winners, Preece appreciates and seeks out complaints to continue his service the best it can be. If there's a problem, Preece calls to apologize to the customer immediately when he becomes aware of it. "Each customer is important, no matter how large or small," Preece explains. "I don't let complaints fester into something bigger. The quicker we respond, the better."
ZipZap's customers will soon be able to evaluate the company's service online. Preece feels that this will be a non-threatening, non-confrontational way for people to give valuable feedback.
In a continuing effort to stay up-to-date on industry trends and technology, Preece is an officer in his local and state pest control associations and feels these are important roles that allow him to continue providing the best customer service possible. Preece is one of the few company owners in his area to have attained the prestigious Board Certified Entomologist designation. This, he believes, gives him credibility when working with his customers.
ZipZap is heavily involved in community activities such as baseball teams, Children's Miracle Network, a support shelter for battered women, and other charities. This support is both monetary as well as service-oriented. Taking care of the customer and doing what's right guide Preece and his staff toward delighted customers every day.
Editor's note: The 2006 Best-in-Class award winners will be recognized at this year's NPMA Academy, to be held July 13-15 in Las Vegas, Nev.
Update to company, ZipZap Termite & Pest Control, a pest control company in Kansas City, now employs 6 full-time employees. We have moved our offices to Pleasant Valley, Mo. Pleasant Valley is still a suburb of Kansas City, providing pest control for people in and around the city. We still have a big community outreach program and change up our referral programs to keep things interesting.
Jeff and Janet Preece still operate the company. Their three children help run the day to day operations. All three children are commercial certified applicators. Geoffery Preece heads up our Heat division for bed bugs in our pest control company in Kansas City. Rhett Preece heads up our Fumigation division for bed bugs in our pest control company Kansas City. We use Vikane gas to fumigate for bed bugs in Kansas City. Jordan Preece works in the office handling front and back office as well as scheduling and answering customer calls.
Our company feels we are the best for pest control for many reasons. First, we have been in business for over 27 years. Second, we are a third-generation pest management company. Third, we have a Board Certified Entomologist on staff, which is one of the owners. Why does this matter? Well, for starters, it shows we are not a start-up company. It also shows we are committed to the industry. Third generation pest management companies are rare. Commitment to this industry is how we prove you are getting the best possible pest control service available. Finally, having a Board Certified Entomologist on staff shows we go above and beyond the expertise level. No other company in Kansas City is owned by a Board Certified Entomologist.