Pharaoh Ants in Kansas City
Pharaoh Ants in Kansas City
Exterminating Company in Kansas City Eliminating Pharaoh Ants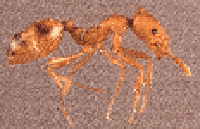 Ant control companies Kansas City
Pharaoh Ant
Scientific Name: Monomorium Pharaonis
Class/Order/Family: Insecta/Hymenoptera/Formicidae
Subfamily: Myrmicinae
Ant control companies Kansas City. We recognize the pharaoh ant as monomorphic, workers are the same size, and the size is about 1/16″ or 2mm long. They have a two-segmented petiole, and the antennae are 12-segmented with a three-segmented club. Their color is yellowish or light brown to reddish. The tip of the gaster is darkened, and they do have a stinger but are unable to sting. The Pharaoh ants are often confused with the thief ants; however, the antennae of the thief ant are 10-segmented with a two-segmented club at the end. In 1758 Linnaeus described the Pharaoh ant from a specimen from Egypt.
Habits: There are multiple queens and nests of the Pharaoh ant colony, and budding occurs with the colony. "Tramp ants" are a name given to Pharaoh ants characterized by their transient nesting behavior. A localized infestation of Pharaoh ants cans spread quickly; this is contributed to colony budding. Pharaoh ants forage in the day and night; due to their size and cryptic behavior, they often go undetected. This ant is omnivores, feeding on fats, proteins, and carbohydrates. They will also scavenge and kill small insects.
Ant control companies Kansas City
Management: Ant control companies Kansas City. After a thorough inspection by ZipZap Bed Bug KC we will determine the proper techniques that will be required to ensure eradication of the Pharaoh Ant affecting your structure. Our Board Certified Entomologist will prescribe a program that will be specific to your unique infestation problem. Through the proper use of baits or liquid chemical treatments, your problem will be longer. Give ZipZap Termite & Pest Control a call today to schedule your ant control in Kansas City.